Wiki Article Picture: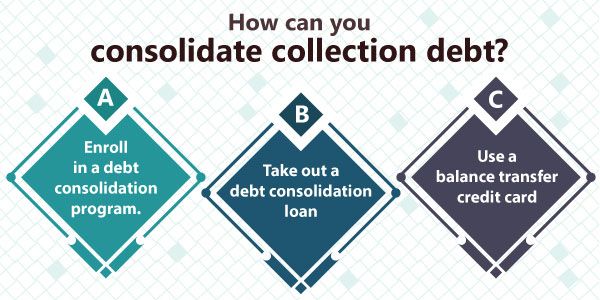 One fine day when you pull out your credit report, your eyeballs almost pop out from their sockets. There are so many debt collection accounts in your credit report. There are medical debt collections, student loan debt collections, credit card debt collections, and so on. After you get over your initial shock, there are a series of questions that circulate in your mind:
Why should I pay off my collection debt?
How to dispute a collection debt
How to pay a collection debt
Let's find answers to these questions one by one.
Why should I pay off my collection debt?
Paying off collection debts is extremely important for your financial benefit and peace of mind. If you don't pay off collection debts, then you can get sued and face wage garnishments. Apart from this, your credit score will drop and leave a bad impression on potential lenders.
How to dispute a collection debt
Like I said, your first option is to check if the collection account is valid. Once you get final confirmation, then you can think about consolidating collections debt. However, if there is a single doubt, then you should dispute the collection account.
As per the FCRA guidelines , you can dispute the collection debt with the credit reporting agencies. They will verify the account details after receiving your dispute letter and give you a reply within 30 days. If they find that the collection account is illegitimate, then it will be removed from your credit report.
You can also dispute the account with the collection agency. As per the federal rules, debtors have this right. But if collection agencies can't validate the debt within 30 days, then you can ask them to remove the account from your credit report. If they ignore your letters or requests, then the next best option is to consult an attorney and fight against the collection abuse.
Get more information on how to dispute collection debts and eliminate them from your credit report.
How to pay off collection debts
There are 3 ways to pay off collection debt. Your first option is to pay the full amount after confirming that the debt is valid. Your second option is to consolidate collection accounts. And, your third option is to settle collection accounts for less. The second and third option have been discussed briefly in the next subsections.
How can you consolidate collection debt?
Here's how to consolidate collection debt in different ways:
Enrolling in a debt consolidation program
Taking out a debt consolidation loan
Using a balance transfer credit card
Let's know about these 3 ways briefly:
(a) Enrolling in a debt consolidation program:
In this scenario, you pay off the debt in collections through a debt consolidation plan. You make single monthly payments as per the agreement with your debt counselor.

Usually, debt consolidation companies help you to consolidate collection debts that are in collections by bringing them under one affordable payment plan. They negotiate with each enrolled debt collector to scale down the interest rate and get rid of late fees.

This is a very convenient option for those people who don't have a good credit score or assets. They get a chance to repay debts as per their convenience and improve the FICO score gradually. Find out what kinds of debts you can consolidate with OVLG.
(b) Taking out a debt consolidation loan:
Well, this option can help you come out of troubled waters when you have some assets in your kitty. For instance, if you have equity in your home, then you can qualify for a home equity loan and use it for paying off debts. However, this may be a short-term solution. You're putting your house at risk. If you fail to repay your loans, then you could end up handing over your house to the lender.

Timing is everything when it comes to consolidating your bills with a loan. You have to think carefully before taking out a home equity loan. You need to check out the interest rate on the loan and also calculate how much equity you have accumulated in the last few years.

If your credit score is below 600, then it would be tough for you to qualify for a loan. Plus, if you don't have any assets, then you have to apply for an unsecured debt consolidation loan, which is quite rare and expensive. Most lenders are not willing to give unsecured loans because the risk is too high.
(c) Using a balance transfer credit card:
When you qualify for a credit card with 0% APR, you can transfer the balance of the collection accounts to this new card and pay it off within the promotional period. Theoretically, it sounds good. But practically, this is not as easy as it sounds. Let me explain why.

First, you have to calculate the credit limit on the new credit card with 0% APR. Is it enough to cover the entire balance? Think! Think!

Next, you have to inform the new credit card issuer that you would like to transfer the entire balance from a credit card account that has been assigned to a collection agency to this card with 0% APR. The card issuer will tell you if there will be problems in paying off the amount due to the collector. If you have proper details (the name of the debt collection agency and the account number), there shouldn't be any problem.

Well, this option is not for everyone. Your accounts are in collections because you couldn't make payments to your creditors in the last 6 months or so. If your monthly income has increased and you can make monthly payments on the collection accounts, then it's time to do some calculations.

Usually, you need to have a good credit score for getting a credit card with a 0% APR offer. Moreover, you may not get the desired credit limit on your new card. When you don't have a good credit score or the offer on the balance transfer card is not good, you have to work with the debt collector and create a repayment plan that is suitable for both of you. See also: Balance transfers for debt relief? Think again
Why should you consolidate collection accounts?
Debt consolidation helps you to simplify your payment process. This is the biggest reason why you should consider debt consolidation for collection accounts. Instead of multiple debt collection accounts, you've to make a single payment every month and take care of a single balance only. It becomes very easy to track your progress on paying off debts in collections.

Debt consolidation helps to waive off penalties and late fees. Plus, it helps you to pay off debt at a low-interest rate. All these factors help you to save money.
How to settle collection debt for less
When your account is in the collection, debt settlement can help you to pay it off for less. The debt settlement program helps to bring down your payoff amount and gives you relief from additional charges imposed by debt collectors.
We all are in a deadly economic situation right now with CoronaVirus eating our savings and jobs. All of us are trying to save whatever we can. In such a situation, debt settlement is a viable option for all of us.
Here's how to settle collection debt for less
| How to settle collection debt for less yourself | How to settle collection debt for less through law firms like OVLG |
| --- | --- |
| Ask for written debt validation. | Ask collectors to validate your accounts. |
| Check out the statute of limitations period in your state. | Figure out if the statute of limitations period in your state has expired. |
| Call the debt collectors and inform them that you can't pay the full amount. | Call 800-530-OVLG and speak to our financial coach. |
| Give answers to all the questions of debt collectors including your income, expenses, and savings. | Understand the debt settlement program and join it online. |
| Ask debt collectors to reduce your payoff amount. | Discuss with your Client Representative Associate about the smallest details. |
| If the debt collectors agree, then ask them to send you the settlement agreement. | Relax and let your CRA negotiate with debt collectors and bring the best deal for you. |
| If the debt collectors don't agree, then it's best to approach a law firm or a debt settlement company for doing the negotiations since they can sue you otherwise. | Look at the deal and see how much collectors are ready to reduce your payoff amount. |
| | If you're satisfied with the deal, pay the agreed amount, and settle your collection debt. |
What to consider before paying off debts in collections
Can you afford to pay the full amount?
How long will it take to consolidate and pay off debts?
What can happen if you can't complete the consolidation process?
Will paying off collection debt improve credit score?
FICO®'s credit score and FICO® 9 don't penalize credit score once collection accounts show zero balance on the credit report. Similarly, VantageScore® credit score, 3.0, and 4.0 don't hurt your credit after zero balance is reported for your collection accounts. Once you pay off or settle collection accounts, your credit score is likely to go up.
Unfortunately, some lenders use the old credit scoring models. So, you may see that your credit score has not gone up even after settling collection debts.
If your account is in the collection, debt relief is only a few calls away. Call 800-530-OVLG to get the best debt solutions..
Wait! Wait! I have not finished yet
Lenders and debt consolidation companies mean business. They want money at the end of the day. So, they may not guide you properly.

Don't worry! There are lots of ways to get guidance in the right direction. Let me list a few of them below:

1. Use an online debt consolidation calculator to figure out your savings
2. Explain your problem in debt forums and get proper advice from experts
3. Read the pros and cons of consolidating collection accounts in various ways
Still, have doubts? Post your questions in the comment section below.

Let's keep talking!!!